2019 UPDATE
Assalaam Alaikum wa Rehmatullahi wa Barkaatuh everyone,
Alhamdulillah I'm excited as well as humbled to announce that "My Perfect Ramadan Journal 2019 " is ready for download!
I thank you all for being patient with me as I tried to cooperate with my husband in editing the Journal who is not in the same country as me (I had to unexpectedly leave home a couple of months ago). Let's just say that I did not believe I could put up the revised Journal up on the blog. But Alhamdulillah that He assisted us in completing the project. I'm so happy and grateful to Allah that so many of you are benefiting from the Journal. May Allah accept it from all of us and bless all our children with all goodness and Imaan. Ameen.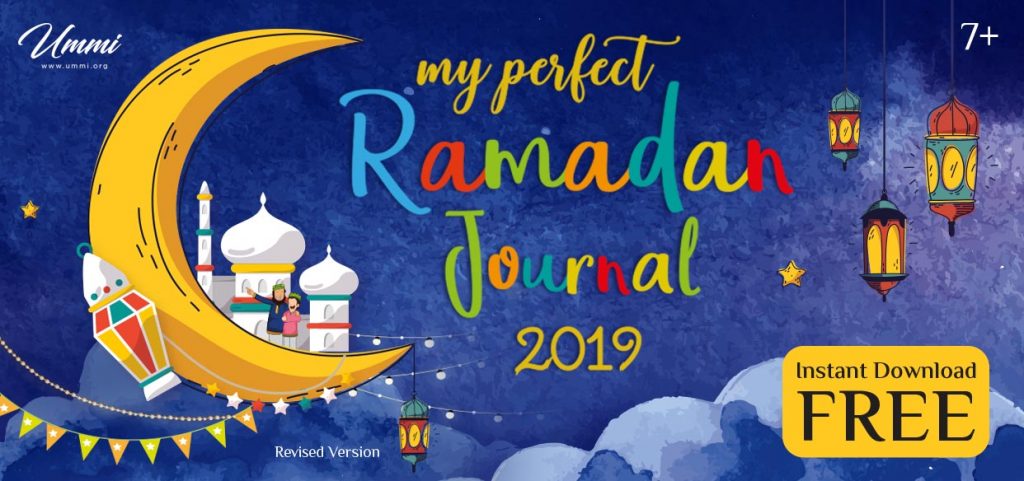 Here's my response to some frequently asked questions:
1. How to download the PDF?
Scroll down to the bottom of the post, click on the button "Download My Perfect Ramadan Journal".
2. Can Ummi deliver hard copies of the Journal?
Unfortunately no. You will have to print out the Journal and bind it.
3. Is it available in Arabic or other languages?
Not yet, may Allah assist in making the Arabic version for next year.
4. At what age can you use this Journal?
Typically at seven. However, some children may use it earlier with a little help. Others may not be ready even at seven. Completely depends on the individual child.
5. Can you distribute or print the Journal in bulk for classroom or Masjid use?
Yes you can. Please read the "Terms of use" on the last page of the Journal.
6. What is new in 2019 version?
The typing errors have been corrected as well as a new cover page is introduced. The content remains the same.
2018 POST
I always wanted to make a meaningful Ramadan Journal for children.
Since my older child is now an independent reader, I 'had' to make a journal for her for this Ramadan. A journal that would enrich her Ramadan experience by increasing her knowledge about this blessed month as well as some basic concepts revolving around Ramadan. A journal that would also keep her occupied with interesting yet beneficial activities. I wanted to give her each day a portion of 'Ilm along with a cup of imaan, so that she benefits her soul in Ramadan just as I do.
It took me a couple of months to brainstorm, write, edit, design and put this journal together. I have included topics that help build a foundation in her understanding of Ramadan such as explaining the pillars of Islam, what is Ramadan and how Quran is related strongly to this month, how was Quran revealed, why was it revealed, how do we to fast, why do we fast, what are the rewards of fasting, what is Laylatul Qadr, what is Sadaqah al-fitr, how to celebrate Eid, and so on.
To keep the journal fun and interesting I have also included a mini moon phase book, mind maps, Islamic stories with reading response, fast tracker, Ramadan calendar, good deeds chart, Ramadan journal prompts and much more.
I pray that it benefits her and all of you not just in Ramadan but also beyond the blessed month. Ameen.
JazakumAllahu khair.
AVAILABLE FOR DOWNLOAD DURING RAMADAN SEASON