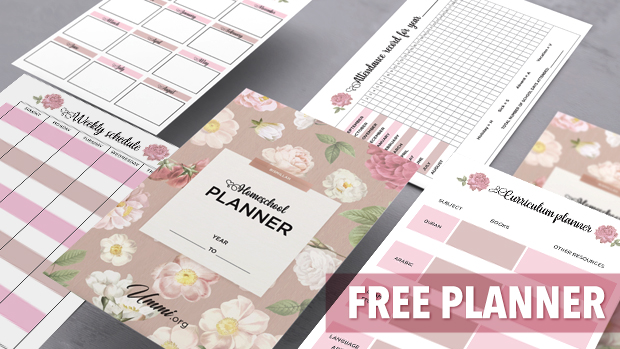 I'm so very excited to share this homeschool planner with you all. I knew I wanted a planner this year. I'm all for planners and printables but somehow last year I went through life without one. It was already a rough year for us plus not having a plan to follow made it worse. So, I started my hunt for a homeschool planner online. I knew there were plenty of free planners out there. So, I didn't wanted to bother myself working on something which is easily accessible. And this is my approach towards all the projects. I only do projects that don't exist, aren't up to my expectations or are expensive. It is a waste of time and effort to do a duplicate work.
So, after going through almost a dozen of homeschool planners online I was disappointed. It wasn't what I was looking for, it wasn't what a Muslim homeschooling family looks for. I needed space for curriculum planner and subject goals for Quran, Arabic, and Islamic studies too which obviously wasn't there. I needed a Sunday through Thursday schedule rather than Monday through Friday. Also, I needed all the amazing planning pages a homeschool planner should have that unfortunately wasn't present in just one planner. So, I decided to make one. That way I get to choose my own design too (grins)! What's more? Many other Muslim homeschooling families can benefit from this planner! So, here it is… presenting you a Muslim homeschooling planner! Alhamdulillah.
What's included in the planner?
1. Homeschool rules (completely unique idea to include in a planner!)
2. Attendance sheet
3. Year at a glance
4. Reading log
5. Daily planner including Salah times, quick Meal planner, grocery list, etc
6. Weekly schedule (Sun-Thu)
7. Books wish list
8. Homeschool supply list
10. Weekly meal planner
11. Subject goals (including Quran, Arabic and Islamic studies…. Yay!)
12. Curriculum planner (including for Quran, Arabic and Islamic studies)
13. Unit study planner
14. Lapbook planner
15.  Field trip planner
16. Space for notes and ideas
17. A little about myself (Well, my daughter was upset that there wasn't anything for her in this planner so this page is dedicated to her and all other homeschooling kids).
How to use this planner?
1. Download the PDF
2. Go through the pages and download only those planning pages that will be beneficial for you and your family.
3. Daily planners are deliberately designed in black and white to save the ink cost. Print as many as you would like. You can print these weekly or monthly.
4. If you need more of any page, simply get multiple prints. For eg., weekly meal planner, unit study planner, notes and ideas, etc.
5. Once you are done printing everything you like, bind them in the order you like.
6. For more than one child, print two copies wherever necessary and write the student's name on top. For eg., Curriculum planner, weekly schedule, etc.
I hope this planner proves to be of benefit for you and your family. I pray that Allah grants us Barakah in our children's time and efforts and make this year a very fruitful and rich year, Ameen.
You can let me know in the comments what worked best for you and what didn't so I can improve next year insha'Allah.